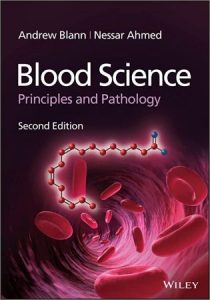 English | ISBN: 1119864119 | 640 pages | EPUB | October 20, 2022 | 26 Mb
Blood Science
The second edition of the leading introduction to blood science, with updated new illustrations and case studies
Blood Science: Principles and Pathology integrates hematology and blood transfusion, ­clinical biochemistry, and immunology to provide a thorough introduction to this rapidly expanding discipline. Reflecting recent changes in education and training for healthcare scientists, this comprehensive textbook covers the analytical techniques used in blood ­science, the diagnosis and management of various blood disorders, and more.
Fully revised, the second edition presents new case studies and high-quality images ­throughout, illustrating the practical skills and knowledge required by today's under­graduate students and practitioners. Detailed yet accessible chapters contain learning objectives and summaries, links to further readings and resources, and real-world case studies with easy-to-follow interpretations. Throughout the text, the authors highlight how laboratory data and clinical details are used to investigate patients with actual or suspected diseases in real-world scenarios
Multi-disciplinary view merging biochemical, hematological, immunological, and genetical knowledge into a single discipline: Blood science
Discusses advances in molecular genetics identifying mutations resulting in the occurrence of certain pathological conditions such as leukaemia
Presents an expanded concluding chapter with detailed case reports that integrate biochemistry, immunology, and haematology, which all contribute to the investigation of respective conditions
Explains the potentials for developing tests such as non-coding RNAs
Offers further reading suggestions to dive even deeper into discussed subjects and concepts
Designed to meet the needs of undergraduate students taking blood science modules in biomedical, biological, and healthcare science programs, Blood Science: Principles and Pathology, Second Edition is also an invaluable guide for new graduates entering the field, as well as those training for professional qualifications or working with blood samples in laboratory-based environments.
Download