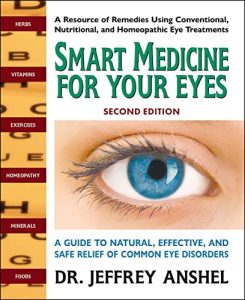 English | 2023 | ISBN: ‎ 0757005233 | 448 pages | True EPUB | 87.75 MB
​*** OVER 13,000 COPIES SOLD ***
While visiting an
eyecare professional is essential, to make informed decisions, you need to
understand what's going on with your eyes. That's why ​ ​Smart Medicine for Your Eyes ​ ​was written. Here is an A-to-Z
guide to the most common eye disorders and their treatments, using both
conventional and alternative care. This second edition has been designed to give you quick and easy access
to up-to-date information and advice regarding the health of your eyes.
Smart Medicine for Your Eyes is divided into
three parts. Part One provides a
simple overview of how the eyes work, describes the development of vision, and
presents the basic history, theories, and practices of nutritional care, herbal
therapy, and homeopathy.
Part Two
contains a comprehensive A-to-Z listing of the various eye disorders affecting
children and adults, from nearsightedness to styes, from glaucoma to macular
degeneration. Each entry clearly
explains the problem and offers specific advice using a variety of approaches.
Part Two also provides a troubleshooting guide that offers possible causes of
common eye symptoms, a first-aid guide for eye emergencies,
and a comprehensive table detailing ocular side effects that may be caused by
today's most popular systemic medications.
Rounding out the book
is Part Th ree , which presents
step-by-step guidance on the specific techniques and procedures suggested in
Part Two, including acupressure and acupuncture, eyeglasses and contact lenses,
orthokeratology and refractive surgery, and vision therapy. Lists of recommended
resource organizations and suppliers will help you put these suggestions into
practice.
A vital bridge
between mainstream medicine and time-tested traditional therapies, Smart
Medicine for Your Eyes is a reliable source of information that you
will turn to time and time again to protect the greatest of your
possessions—your eyes.
Download