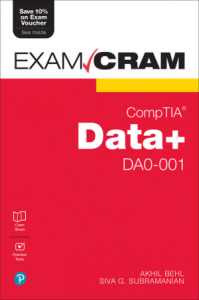 English | 2023 | ISBN: 0137637292 | 528 Pages | EPUB | 18 MB
CompTIA® Data+ DA0-001 Exam Cram is an all-inclusive study guide designed to help you pass the CompTIA Data+ DA0-001 exam. Prepare for test day success with complete coverage of exam objectives and topics, plus hundreds of realistic practice questions. Extensive prep tools include quizzes, Exam Alerts, and our essential last-minute review CramSheet. The powerful Pearson Test Prep practice software provides real-time assessment and feedback with two complete exams.
Covers the critical information needed to score higher on your Data+ DA0-001 exam!
Understand data concepts, environments, mining, analysis, visualization, governance, quality, and controls
Work with databases, data warehouses, database schemas, dimensions, data types, structures, and file formats
Acquire data and understand how it can be monetized
Clean and profile data so it;s more accurate, consistent, and useful
Review essential techniques for manipulating and querying data
Explore essential tools and techniques of modern data analytics
Understand both descriptive and inferential statistical methods
Get started with data visualization, reporting, and dashboards
Leverage charts, graphs, and reports for data-driven decision-making
Learn important data governance concepts
Download
http://usafiles.net/1WGm/CompTIA_Data_DA0_001_Exam_Cram.epub