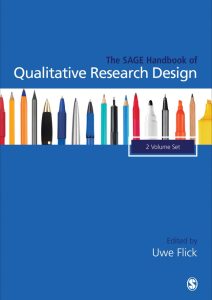 Edited by: Uwe Flick
Qualitative research design is continually evolving. It is not only more established in disciplines beyond the traditional social sciences in which it is a standard choice, but also just as impacted by the changes in what data, technologies, and approaches researchers are using. This Handbook takes readers through the foundational theories, functions, strategies, and approaches to qualitative research design, before showcasing how it negotiates different data and research environments and produces credible, actionable impact beyond the study.
Containing contributions from over 90 top scholars from a range of social science disciplines, this Handbook is not just an anthology of different qualitative research designs and how/when to use them; it is a complete exploration of how and why these designs are shaped and how, why, and into what they are evolving. This is a valuable resource for Master's and PhD level students, faculty members, and researchers across a wide range of disciplines such as health, nursing, psychology, social work, sociology, and education.
Volume One:
Part I: Concepts of Designing Designs in Qualitative Research
Part 2: Theories and Epistemological Contexts of Designing Qualitative Research
Part 3: Elements of Designing Qualitative Research
Part 4: Basic Designs and Research Strategies in Qualitative Research
Part 5: Mixing Methods in Designing Qualitative Research
Volume Two:
Part 6: Designing Qualitative Research for Specific Kinds of Data
Part 7: Designing Qualitative Online and Multimodal Research
Part 8: Designing Qualitative Research for Specific Groups and Areas
Part 9: Designing Qualitative Research in Disciplinary Fields
Part 10: Designing Qualitative Research for Impact
Download
http://usafiles.net/15cI/The_SAGE_Handbook_of_Qualitative_Research_Design_2_Volume_Set.pdf