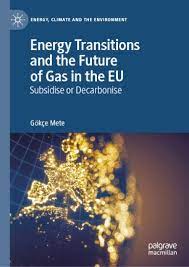 English | ISBN: 3030326136 | 2020 | 301 Pages | EPUB | 824 KB
This book assesses the impact of energy transitions on the future of natural gas in the EU energy mix. As we approach 2050, the requirement to sharply decrease CO? and other GHG emissions means that the role of gas infrastructure in the EU and beyond will change drastically. But what does such change mean? To address this question the author critically analyses the EU's evolving natural gas market policy and law. Clearly structured throughout, the book explores the following questions: How can we maximise the potential of gas infrastructure to reduce carbon emissions? What are the lessons learned from decision making experience in the natural gas sector? Is the EU moving towards or away from a climate neutral gas sector? How will green and low carbon gas technologies be supported? And, are proposals to drive a growing share of hydrogen, biomethane, and synthetic methane to the system just an excuse to prolong fossil fuel operations?
The book explores whether the EU will continue to subsidy natural gas projects or decarbonise the gas grid before 2050, and at what cost. Recommendations are proposed for a new regulatory and policy framework for development and operation of hydrogen pipelines, injection of biomethane into the existing gas grid and for pipelines carrying CO?.
Filling an important gap in the literature, this book aims to develop an understanding of and clarify the complex range of legislation involved within a single analytical framework. Although the focus is mainly on the future of gas in the EU, the findings and recommendations are relevant for a much wider geography. This book will be an invaluable reference to policy makers and practitioners as well as researchers and students across the social sciences interested in the future of energy.
Download:
http://usafiles.net/Et0/Energy_Transitions_and_the_Future_of_Gas_in_the_EU_Subsidise_or_Decarbonise.epub