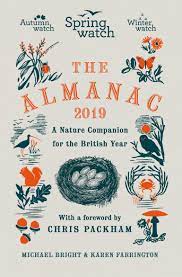 English | September 20th, 2018 | ISBN: 1785943677 | 372 Pages | EPUB | 14.84 MB
'Beautiful, fun, a great book… the best book ever written!' – Chris Evans
'It is a brilliant book, a toolkit, packed full of information – even I learnt a few new things!' – Chris Packham
Explore the world outside your window.
For 13 years the BBC's Springwatch and its sister programmes, Autumnwatch and Winterwatch, have been bringing the best of Britain's wildlife into our homes. Now Springwatch: The 2019 Almanac offers the perfect guide for anyone looking to get out and explore the wonders of nature just outside their back door.
Taking you month by month through the coming year, the almanac combines compelling stories with practical guidance that will inspire anyone to start exploring. It has all the information you need to discover the natural wonders around you, from how to identify animal tracks and bird nests to the best time to witness starling murmurations and mayflies hatching. Complete with monthly daylight and rainfall charts and beautifully illustrated with black and white line drawings, The Springwatch Almanac is the ideal companion for every nature lover.
Download: