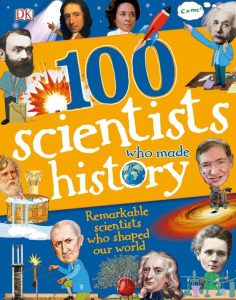 by Andrea Mills
From brainy biologists and clever chemists, to magnificent mathematicians and phenomenal physicists. Discover 100 remarkable scientists who shaped our world.
Containing a universe of knowledge, this amazing kids' educational book tells the story of the extraordinary people who revolutionised our understanding of the world. A stunning way for children to meet science's most important people.
Read through information-packed mini-biographies of 100 brilliant scientists and innovators who have shaped our society and how we see the world around us. A perfect "everything you want to know in one place" about the history of science for children aged 8-12.
Readers learn about discoveries that laid the groundwork for some of the most impressive innovations in history. Biologists, chemists, physicists, doctors, coders and astronauts are all featured including Hippocrates, Da Vinci, Alan Turing, Stephen Hawking, Neil deGrasse Tyson, and more.
An attractive and engaging kids book that may inspire the next Einstein or Curie! Made for those always curious children and those who need encouragement to aspire to greatness and see the marvels of science.
Put children inside the minds of scientific heroes through clever speech bubbles alongside portraits with first-person fun facts about their lives. It's a cool way to personalise these incredible people and engage children while giving them a solid base in science.
Download
http://usafiles.net/1TP5/100_Scientists_Who_Made_History.pdf