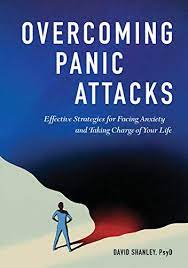 2020 | ISBN: 1646117247 | English | 126 Pages | EPUB | 1 MB
Prevail over panic attacks-evidence-based strategies for getting your life back
Whether you're new to having panic attacks or have suffered from them for many years, you can free yourself from the grip they have on your life. Overcoming Panic Attacks is filled with effective strategies that offer you different ways of thinking, feeling, and behaving so you can increase your flexibility in uncomfortable situations and go after the life you want.
Drawing from his personal experience, expertise, and clinical work, Dr. David Shanley unpacks the mystery around panic attacks across many different life situations and offers you hope and tangible strategies to effectively manage your panic attacks.
Overcoming Panic Attacks includes:
Evidence-based strategies-Discover practical strategies based on cognitive behavioral therapy (CBT) and acceptance and commitment therapy (ACT).
Anxiety vs. panic-Learn the important differences between anxiety and panic, including detailed symptoms and experiences of each.
Go deeper-Explore helpful suggestions on how to take some of the strategies to the next level by turning inward to complete more in-depth exercises.
Reduce the frequency and severity of your panic attacks with these scientifically supported strategies so you can get back to feeling and functioning like yourself again.
Download:
http://usafiles.net/1SFc/Overcoming_Panic_Attacks_Effective_Strategies_for_Facing_Anxiety_and_Taking_Charge_of_Your_Life.epub