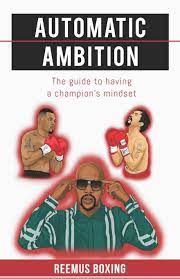 English | December 11, 2018 | ISBN: 1789269040 | 169 Pages | EPUB | 0.19 MB
THE BEST BOXING BOOK IN THE GAME
Automatic Ambition' is dedicated to the dreamers who want to unlock ALL their potential. Read the interesting stories and gain insightful tips of legends from the fight game. 'Automatic Ambition' is the ultimate guide for the fighter working towards his/her championship goals.
LEARN THE SECRET OF CHAMPIONS
How did Mike Tyson to win the championship at the young age of 20 years old? How did Muhummad Ali go down in history as the 'Greatest Of All Time' (GOAT)? What allowed Floyd Mayweather to go on a record-breaking winning run and earn the title of being 'The Best Ever' (TBE)? The key to consistently winning is the champion's mindset.
INCLUDES YOUR FAVOURITE FIGHTERS
In 'Automatic Ambition', Reemus from the popular media channel 'Reemus Boxing', presents an entertaining collection of stories from ten fight-sport legends, with easy-to-follow steps so we can learn their secrets to success. The ten fighting legends include:
Mike Tyson
Floyd Mayweather
Anthony Joshua
Conor McGregor
Manny Pacquiao
Sugar Ray Leonard
Deontay Wilder
Cus D'Amato, Mike Tyson's mentor
Joe Frazier, Muhummad Ali's nemesis
Jack Johnson, the first black heavyweight champion
PART 1 OF AUTOMATIC AMB
The book is split into two different parts and covers seven different champions as examples with the additional example of one boxing coach. The first part of the book focuses on developing the charismatic confidence that every elite winner has. We break down seven mental concepts to destroy any doubts that you could have. We focus on crafting your dream and career goals with limitless ambition.
PART 2 OF AUTOMATIC AMB
The second part of the book focuses on building that inner vision in the world so that it happens. It isn't enough to take in the feel-good stuff that is nice to hear. The aim is to make it happen. We look at five different areas that you can actively master to live the lifestyle of an ambitious fighter. The second section guides you through the steps you must take and the right way to interact with the world around you if you want to progress quickly.
THE ULTIMATE LIFESTYLE GUIDE TO SUCCESS
Mental strategies
Tools to aid your training
Daily lifestyle management
Promotional strategies
Media mastery
Set of affirmations in each chapter to increase your confidence
Specific mental exercises and visualisations
Practical assignments to guide you to greatness
UNLOCK YOUR INNER CHAMPION NOW
Whether you are a boxer, athlete, or just a fight fan, who wants to learn from the greats, this book ensures you will know exactly what to do, say, and think to become the type of person that millions of people around the world would love to be.
Download:
http://usafiles.net/128A/Automatic_Ambition_The_Guide_To_Having_A_Champion_s_Mindset.epub