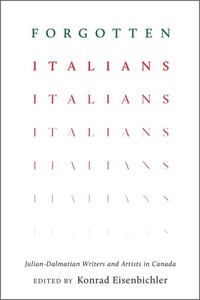 English | 2019 | ISBN: 1487504020 | 335 Pages | PDF | 3.25 MB
Scholarship on Italian emigration has generally omitted the Julian-Dalmatians, a group of Italians from Istria and Dalmatia, two regions that, in the wake of World War Two, were ceded by Italy to Yugoslavia as part of its war reparations to that country. Though Italians by language culture, and traditions, it seems that this group has been conveniently excised from history. And yet, Julian-Dalmatians constitute animportant element in twentieth-century Italian history and represent a unique aspect of both Italian culture and emigration.
This ground-breaking collection of articles from an international team of scholars opens the discussion on these "forgotten Italians" by briefly reviewing the history of their diaspora and then by examining the literary and artistic works they produced as immigrants to Canada. Forgotten Italians offers new insights into such celebrated authors as Diego Bastianutti, Mario Duliani, Caterina Edwards, and Gianni Angelo Grohovaz, as well as visual artists such as Vittorio Fiorucci and Silvia Pecota. Profoundly marked by the experience of being uprooted and forced into exile, by life in refugee camps, and by the encounter with a new culture, first-generation Julian-Dalmatians in Canada used art and writing to come to terms with their anguished situation and to rediscover their cultural roots.
Download:
http://usafiles.net/1oxx/Forgotten_Italians_Julian-Dalmatian_Writers_and_Artists_in_Canada.pdf