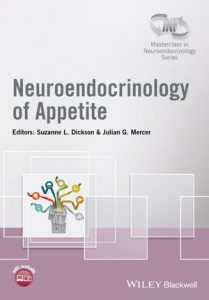 Wiley Blackwell | Endocrinology & Metabolism | October 17. 2016 | ISBN-10: 1118839323 | 312 Pages | PDF | 4.15 MB
by Suzanne L. Dickson (Author), Julian G. Mercer (Author)
The regulation of appetite – the desire to eat food – in response to hunger, is fundamental to survival. Multiple feedback systems signal the need to consume food, and elicit the behaviours that result in the ingestion of foods of appropriate energy and macronutrient content. The efficiency of these systems is not only key to survival and reproduction, but also underlies clinical issues such as obesity and clinical inappetance, at opposite ends of the spectrum of malnutrition. Consequently, the neuroendocrine pathways in the brain that relate to metabolic need, food choice and desirability, and the feedback that these systems receive from the gastrointestinal tract and food processing are of importance in a wide range of related research areas in the biosciences.
Neuroendocrinology of Appetite provides researchers and students with a state-of-the-art account of this key interface between physiology and behaviour – the brain areas, pathways and signalling molecules, and the gut signals and processes that are involved in metabolic and hedonic drives to eat. Chapters cover contemporary research tools and approaches, including translational pre-clinical models, the activity of the human brain, and the future of surgical and pharmacological therapies for obesity and eating disorders.
This is the fifth volume in the Masterclass in Neuroendocrinology Series, a co- publication between Wiley and the INF (International Neuroendocrine Federation) that aims to illustrate highest standards and encourage the use of the latest technologies in basic and clinical research and hopes to provide inspiration for further exploration into the exciting field of neuroendocrinology.
Series Editors: John A. Russell, University of Edinburgh, UK
and William E. Armstrong, The University of Tennessee, USA
Topics
Eating Disorders
Endocrinology & Metabolism
Internal Medicine
Psychopathology
Download:
http://longfiles.com/6jnmrkbg08qp/Neuroendocrinology_of_Appetite.pdf.html