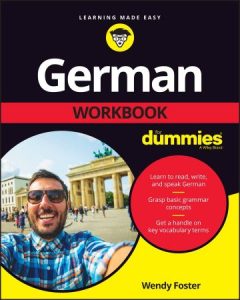 English | 2022 | ISBN: 9781119986690 | 355 pages | True PDF | 14.57 MB
Sprechen sie Deutsch? Learn this fun language with Dummies
German Workbook For Dummies is for German beginners who want to get started learning the official language of 7 countries. Packed with foundational grammar and integrated vocab,German Workbook For Dummies will set new language learners on their way to an exciting experience learning this complex language. Inside, you'll find plenty of practice for an experience that supports how people learn languages most effectively. As you make your way through the workbook, your confidence will grow as you discover how to handle greetings and introductions, make small talk, and understand daily encounters… auf Deutsch!
Practice your speaking and writing skills in German Grasp the basics of German grammar Learn functional vocabulary and common slang Complete exercises and activities to build your confidence
With a little help from Dummies, you'll excel in your German studies.
Download