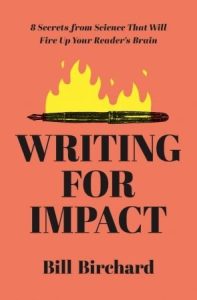 Learn the keys to energizing your writing, engaging readers, and breaking out with influence.
What good will it do to skillfully craft a written argument if you lose your audience? Simple emails, formal reports, blogs, presentations, articles—they need punch to gain influence. Clear structure and logic alone won't do. To engage readers, you need to make mentally stimulating choices in language—choices that electrify your readers' mental hotspots.
Veteran journalist Bill Birchard reveals the secret of making that happen. He blends the findings from a global cadre of psychologists and neuroscientists with lessons from his long, successful career as a professional writer. In Writing for Impact, he details eight potent writing strategies, based on the latest scientific breakthroughs, to give you the power to write faster, win over more people, and earn influence as a thought leader.
As a reader, you will
• Discover the story of recent scientific research that shows how the right language rewards readers mentally, engaging them with hits of dopamine and more.
• Learn the eight time-tested writing strategies—strategies you can apply immediately—to become a better, more impactful writer and communicator.
• Learn three dozen tactics to hook readers with each strategy, tactics proven to work based on how the brain processes language and meaning.
• Find engaging writing examples to illustrate each strategy and inspire you to write with punch that keeps your audience coming back for more.
• Master the eight-part strategic framework step by step, giving yourself a methodical means to develop yourself into a writer who communicates like a pro.
Download