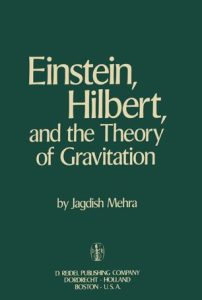 English | PDF | 1974 | 96 Pages | ISBN : 9027704406 | 9.44 MB
Some time ago I published a small piece * dealing with a charming little essay on 'the state of ether in magnetic fields', which the sixteen-year-old Einstein had written while he was awaiting admission to the E. T. H. in Zurich. This paper sought to trace the continuity between Einstein's early interest in electrodynamics and his later work on the special and general relativity theories. On reading this paper, Professor Eugene Wigner asked me whether David Hilbert had not independently discovered the field equations of gravitation.
** His impression from his stay in Gottingen (where Wigner had been Hilbert's assistant for one year in the late nineteen-twenties) was that Hilbert had indeed done so, and he asked me if it was true. I replied to Professor Wigner about Hilbert's contribution to the theory of gravitation. t He kindly encouraged me to expand my account to deal with the intricate and exciting details of the early years in the formulation of the general relativity theory of gravitation. This is what I have sought to do in this study. Albert Einstein created the general relativity theory of gravitation and dominated its development through the rest of his life. His early work on the theory of gravitation, from 1912 to 1916, had the drama of high adventure. It culminated in the establishment of its foundations which have remained unassailed by the theoretical and experimental work of succeeding decades.
Download
http://usafiles.net/16S1/Einstein_Hilbert_and_The_Theory_of_Gravitation_Historical_Origins_of_General_Relativity_Theory.pdf