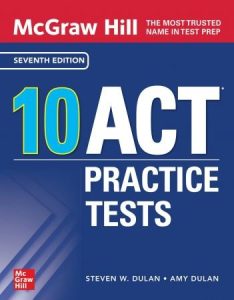 English | December 12th, 2022 | ISBN: 1264792093 | 857 pages | True PDF | 9.84 MB
Practice makes perfect! Get the practice you need to succeed on the ACT!
With so much riding on the results of your ACT results, you need every advantage available to you—and taking as many practice tests as you can is widely regarded as the most efficient, reliable way to achieve that edge. Packed with a ten full-length simulated ACT tests—the most practice available anywhere—McGraw Hill 10 ACT Practice Tests provides the best preparation you can get.
Written by renowned test prep experts, McGraw Hill 10 ACT Practice Tests, Seventh Edition explains how the test is structured, what it measures, and how to budget your time for each section. You'll find repeated drills on concepts and questions as they appear on the test, with fully explained answers to help you in any areas that need improvement.
In addition to the intensive drills and practice, chapters that include "Understanding the ACT," "Your ACT Study Plan," and "50 Top Strategies for Test Day" will help you wake up on the big day feeling fully prepared and confident.
Features Include
• 10 complete sample ACTs—the most practice tests available anywhere
• Complete, in-depth explanatory answers for every question
• Includes scoring worksheets to calculate your ACT scores and chart your progress from one test to the next
Download
http://usafiles.net/2mMw/McGraw_Hill_10_ACT_Practice_Tests_7th_Edition.pdf