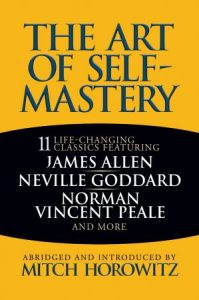 English | April 12th, 2022 | ISBN: 9781722527297 | 553 pages | True EPUB | 1.61 MB
The Art of Self-Mastery presents 11 timeless classics and the greatest inspirational works of our time condensed and introduced by PEN Award-winning historian and New Though Scholar Mitch Horowitz
The Art of War by Sun Tzu This key to power and victory is the most important book ever written on overcoming obstacles and defeating your foes.
As a Man Thinketh by James Allen This meditation on the power of thought transforms failure and indirection into power and purpose.
Atom-Smashing Power of Mind by Charles Fillmore Discover how your thoughts are the most powerful force In the universe.
In Tune with The Infinite by Ralph Waldo Trine One of the most significant works of mind-power teaches you how to tap the creative faculties of higher thought.
• Magic of Faith by Joseph Murphy Unlock your hidden power and reach your epic potential.
• The Master Mind by Theron Q. Dumont Master your thoughts and you'll master your destiny.
• The Power of Awareness by Neville Goddard See how your perception Is your destiny.
• The Power of Concentration by Theron Q. Dumont Enter a new world of personal magnetism, success, and effectiveness.
• The Power of Faith by Norman Vincent Peale One of the most profoundly practical works to come from the author of The Power of Positive Thinking.
• The Prophet by Khalil Gibran A timeless message for meaningful living is one of the greatest inspirational works of our time.
Walden by Henry David Thoreau This classic work provides you with stirring ideas in its celebration of simple living, self-sufficiency, and following your own inner compass.
Download
http://usafiles.net/1wBo/The_Art_of_Self-Mastery_Mitch_Horowitz.epub