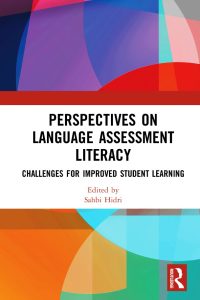 Edited by: Sahbi Hidri
Perspectives on Language Assessment Literacy describes how the elements of language assessment literacy can help teachers gather information about when and how to assess learners, and about using the appropriate assessment tools to interpret results in a fair way. It provides highlights from past and current research, descriptions of assessment processes that enhance LAL, case studies from classrooms, and suggestions for professional dialogue and collaboration.
This book will help to foster continuous learning, empower learners and teachers and make them more confident in their assessment tasks, and reassure decision makers that what is going on in assessment meets international benchmarks and standards. It addresses issues like concepts and challenges of assessment, the impacts of reflective feedback on assessment, the ontogenetic nature of assessment literacy, the reliability of classroom-based assessment, and interfaces between teaching and assessment. It fills this gap in the literature by addressing the current status and future challenges of language assessment literacy.
This book will be of great interest for academics, researchers, and post-graduate students in the fields of language assessment literacy and English language teaching.
Download
http://usafiles.net/Gnl/Perspectives_on_Language_Assessment_Literacy__Challenges_for_Improved_Student_Learning.pdf