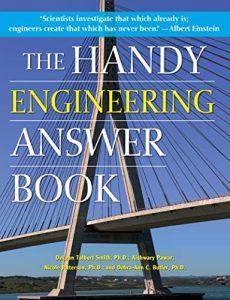 English | 2022 | ISBN: ‎ 1578597706 | 448 pages | True EPUB | 39.69 MB
A handy resource on the fundamental facts about engineering for both engineers and non-engineers alike, whether you are exploring engineering for the first time, already have a strong background, or fall anywhere in between.
Engineering impacts every aspect of our lives. Bridges, buildings, buses, electrical grids, computers, televisions, refrigerators, vacuum cleaners, and virtually any everyday household item needs to be engineered to function properly. Fundamentally, engineering is about identifying a need and developing solutions that meet that need. Throughout history, engineering ideas and innovative feats have provided solutions to many challenges faced by civilizations. From the Great Wall of China to NASA's space program, The Handy Engineering Answer Book covers the history of the field, details the lives of key figures, introduces the tools engineers use to solve problems, and provides fun facts and answers to a thousand important and interesting questions, such as …
What is the difference between science and engineering?
What do engineers do?
What are some famous engineering mistakes or failures?
What is reverse engineering?
What is a prototype?
What types of jobs do electrical engineers do?
How does a car battery work?
What are the major job responsibilities of a HVAC engineer?
What is a Powertrain?
What is Bernoulli's principle?
What are the Laws of Thermodynamics?
What's the difference between 2-stroke and 4-stroke engines?
What is stress and strain?
What is the difference between torque and power?
What is automation?
What is quality assurance?
What is meant by outsourcing?
What are the responsibilities of a construction manager?
What are the types of road construction that are both durable and cost-effective?
Which materials are used to build a cruise ship?
What are some design elements that help structures withstand earthquakes?
How does a civil engineer design water slides for theme parks?
Who was W. Edwards Deming?
What is ergonomics?
What is biomedical engineering?
Who is Grace Hopper?
What is debugging?
What is the difference between a web developer and a website designer?
Was Leonardo da Vinci an aerospace engineer?
Where do chemical engineers work?
How much energy does the world use?
What are the major challenges addressed by environmental engineers?
What is humanitarian engineering?
What is acoustical engineering?
What are the required skills for fire engineers?
What are the advantages and disadvantages of nanotechnology?
With more than 140 photos and graphics, this fascinating tome is richly illustrated. Its helpful bibliography and extensive index add to its usefulness. Whether using science and math or building prototypes for testing or the development of various subdisciplines, The Handy Engineering Answer Book looks at how fundamental engineering is to modern life and society!
Download
http://usafiles.net/Glh/sanet.st-The_Handy_Engineering_Answer_Book.epub