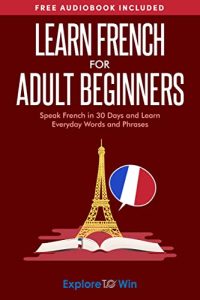 English | 2021 | ISBN: N/A | ASIN: B09MDGPB35 | 70 pages | EPUB | 0.20 Mb
Learning French will transform your life!
Discover a brand new culture, enjoy new music, movies, foods, create new relationships, collect new & unforgettable memories of travel with family & friends…
This is just a fraction of what you'll receive when becoming fluent in French.
Unfortunately, trying to learn French today is similar to hopping on a never-ending hamster wheel.
The books, apps, and courses you'll find today love to provide you with a ton of grammar & vocabulary with the expectation that you'll become fluent with just that…
But it'll be more difficult than it has to be… and we know because we've been there.
Truthfully, becoming fluent with French can occur in as little as 30 days when you have the right learning material… and this is where we come in.
In Learn French For Adult Beginners In 30 Days, you'll be personally handed the keys to French Fluency so you can grasp this wonderful language once and for all and start applying it immediately.
What exactly will you uncover in this French fluency accelerator?
Learn the most common words used in the French language so you can start expressing yourself with ease… say goodbye to not knowing how to structure a basic sentence.
What's the key to sounding near-native? Proper pronunciation. Discover our pronunciation guides that'll have others so impressed with your French that they'll naturally mistake you for a French local.
The real fundamentals of French grammar that'll make you conversational. You can read about French grammar as much as you want but you only need 20% of it to start speaking immediately (hint: verbs, verbs, verbs) and that's exactly what you'll find here.
The #1 enemy stopping you from becoming conversational in French is not knowing how a natural conversation looks like. That ends with this book. Get a first-person view of everyday French conversation examples that you can easily plug-n-play into your everyday communication.
Socially adept people use unique phrases for different situations… so will you once you learn the exact French phrases to use in the common scenarios you'll inevitably experience. Never be out of touch again!
Get a leg up on other French learners by actually retaining what you learn through our expert-crafted exercises & quizzes. Verify the correct answers yourself with our included answer key – no expensive private French tutor required!
and much, much, much more!
Download