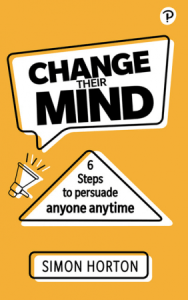 English | 2022 | ISBN: 1292406798 | 240 Pages | EPUB | 1 MB
Change their Mind outlines the 6 steps you can follow to persuade anyone anytime. By understanding the person you're trying to persuade more deeply, you can build better relationships and get better outcomes. Based on insights from psychology, neuroscience and business research, this practical book will show you exactly what to do and how to do it well.
Simon Horton is one of the world's leading experts and trainers on negotiation, he has written a number of successful books on the topic. Over a 20-year career in the field, he has worked with many of the world's leading businesses. He is a Visiting Lecturer at Imperial College and regularly appears on television, radio, national newspapers and magazines as a guest expert on related subjects. He has performed as a stand-up comedian and as a trapeze artist.
Download