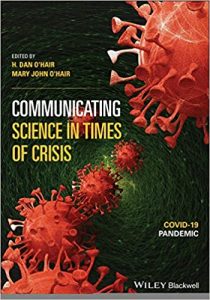 English | 2021 | ISBN: 978-1119751779 | 444 pages | True EPUB | 13 MB
Learn more about how people communicate during crises with this insightful collection of resources
In Communicating Science in Times of Crisis: COVID-19 Pandemic, distinguished academics and editors H. Dan O'Hair and Mary John O'Hair have delivered an insightful collection of resources designed to shed light on the implications of attempting to communicate science to the public in times of crisis. Using the recent and ongoing coronavirus outbreak as a case study, the authors explain how to balance scientific findings with social and cultural issues, the ability of media to facilitate science and mitigate the impact of adverse events, and the ethical repercussions of communication during unpredictable, ongoing events.
The first volume in a set of two, Communicating Science in Times of Crisis: COVID-19 Pandemic isolates a particular issue or concern in each chapter and exposes the difficult choices and processes facing communicators in times of crisis or upheaval. The book connects scientific issues with public policy and creates a coherent fabric across several communication studies and disciplines. The subjects addressed include:
A detailed background discussion of historical medical crises and how they were handled by the scientific and political communities of the time
Cognitive and emotional responses to communications during a crisis
Social media communication during a crisis, and the use of social media by authority figures during crises
Communications about health care-related subjects
Data strategies undertaken by people in authority during the coronavirus crisis
Perfect for communication scholars and researchers who focus on media and communication, Communicating Science in Times of Crisis: COVID-19 Pandemic also has a place on the bookshelves of those who specialize in particular aspects of the contexts raised in each of the chapters: social media communication, public policy, and health care.
Download