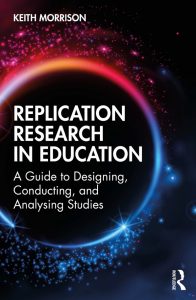 By: Keith Morrison
Providing an overview of key issues in theory and practice, Replication Research in Education is designed to identify and discuss the benefits and challenges facing replication studies in education. Both clear and practical, this groundbreaking volume covers how to introduce, develop, conduct, report, and discuss these studies, and the issues they raise for policy and practice.
Bridging theory and practice, this book considers what replication research should look like, how it should be conducted, and how to judge when it has been successful. It enables researchers to plan and conduct studies successfully, from their earliest stages through to completion. This key text:
brings together in a single volume, existing issues, claims and counterclaims, discourses, and practices of replication;
introduces, covers, and extends this field of research, indicating its possibilities and limits;
expands and adds to existing discussions and practices;
will enable researchers to design, conduct, evaluate, and critique studies.
The comprehensive and exhaustive coverage of issues and practices within Replication Research in Education make it a 'must read' for all novice and experienced educational researchers who are considering, conducting, and reviewing replication studies in education.
Download
http://usafiles.net/1VJb/Replication_Research_in_Education__A_Guide_to_Designing_Conducting_and_Analysing_Studies.pdf