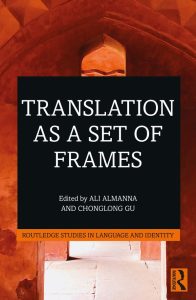 Edited by: Ali Almanna and Chonglong Gu
Envisioned as a much needed celebration of the massive strides made in translation and interpreting studies, this eclectic volume takes stock of the latest cutting-edge research that exemplifies how translation and interpreting might interact with such topics as power, ideological discourse, representation, hegemony and identity.
In this exciting volume, we have articles from different language combinations (e.g. Arabic, English, Hungarian and Chinese) and from a wide range of sociopolitical, cultural, and institutional contexts and geographical locales (China, Iran, Malaysia, Russia and Nigeria). Those chapters also draw on a diverse range of theoretical perspectives and methodological approaches (e.g. critical discourse analysis, Bourdieu's sociological theories, corpus linguistics, narrative theory and structuration theory), focusing on translation and interpreting relating to various settings and specialised genres (traditional media, digital media, subtitling, manga, etc.). As such, this volume serves as a dynamic forum for intercultural and interlingual communication and an exciting arena for interdisciplinary dialogues, thus enabling us to look beyond the traditionally more static, mechanical and linguistics-oriented views of translation and interpreting.
This book appeals to scholars and students interested in translation and interpreting studies and issues of power, ideology, identity in interlingual and intercultural communication.
Download