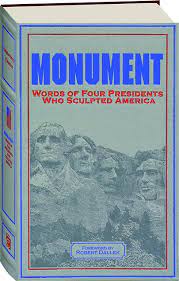 English | May 5th, 2020 | ISBN: 1684129079 | 704 Pages | EPUB | 1.40 MB
The contributions of these four presidents are forever set in stone!
From personal correspondence to presidential speeches and documents, Monument: Four Presidents Who Sculpted America explores the written words of the men forever remembered on the face of Mount Rushmore National Memorial in South Dakota. Originally a project to boost tourism, the sculpture received congressional approval in 1925, and construction was completed in 1941, shortly after the death of sculptor Gutzon Borglum. Canterbury Classics has gathered historic documents penned by George Washington, Thomas Jefferson, Abraham Lincoln, and Theodore Roosevelt into this beautiful leather-bound volume, and added introductions by learned scholars to outline the contribution each president made to the birth, growth, development, and preservation of the United States.
Also included is the story of how Mount Rushmore came to be, and a foreword written by historian Robert Dallek. With more than two million visitors annually, Mount Rushmore lives up to its status as a "Shrine of Democracy," and this rich piece of U.S. history is preserved in this timeless collectible edition.
Download:
http://usafiles.net/1UW6/Monument_Words_of_Four_Presidents_Who_Sculpted_America_Words_of_Four_Presidents_Who_Sculpted_America.epub