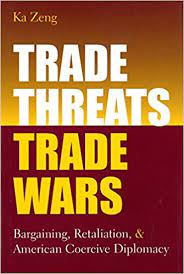 English | ISBN: 0472113585 | 2004 | 324 Pages | PDF | 1141 KB
This study of American trade policy addresses two puzzles associated with the use of aggressive bargaining tactics to open foreign markets. First, as the country with greater power and resources, why has the United States achieved more success in extracting concessions from some of its trading partners than others? Second, why is it that trade disputes between democratic and authoritarian states do not more frequently spark retaliatory actions than those between democratic pairs?
Ka Zeng finds answers to both of these questions in the domestic repercussions of the structure of trade between the United States and its trading partners, whether the United States has a competitive trade relationship with its trading partner, or whether trade is complementary.
This book offers practical policy prescriptions that promise to be of interest to trade policymakers and students of international trade policy.
Ka Zeng is Assistant Professor of Political Science at the University of Arkansas, Fayetteville.
Download:
http://usafiles.net/Ewk/Trade_Threats,_Trade_Wars_Bargaining,_Retaliation,_and_American_Coercive_Diplomacy.pdf