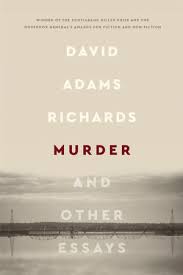 English | October 22nd, 2019 | ISBN: 0385666551 | 320 Pages | EPUB | 1.12 MB
A thrilling, revelatory collection from one of the most provocative and original literary voices in Canada today.
David Adams Richards is one of Canada's greatest writers, his place in the pantheon ensured by seventeen novels of consistent power and vision. He is also the author of four marvelous non-fiction ruminations on religious faith, hockey, hunting and fishing and their roles in his and the nation's identities. His loyal readers may feel they know him well. But they also know that this is a writer who never fails to surprise. This new collection of essays-his first in a quarter-century-is rich with revelations and insights, deepening our appreciation for this major talent and offering a provoking thought on every page.
Murder is one of David's great subjects. In his novels, in the Russian classics he loves and in his life, murder has been a shaping force. The title of this volume refers to a suite of essays on the subject: a hitchhiker with whom David strikes up an unnerving philosophical debate; the killers of the Miramichi and their victims; Caligula; the villains of Russian literature; and, forever in David's mind as he examines this grim topic, the self-deception involved in the allure of evil.
But in this wide-ranging collection there is much to delight in too: married love; family; travel; the beauty of the natural world; even Wayne Gretzky is invited to the party. David's principled outlook and spirituality inform his thinking thoroughout. And he draws many of his favourite writers into the discussion-from Tolstoy to Dostoevsky, Mary Shelley to Alden Nowlan-revelling in their work, as we do in David's, as sources of ideas, inspiration and sheer literary pleasure. As a considerable bonus, the book also contains at its mid-point a literary debut: a slim but substantial collection of David's poetry.
Download: