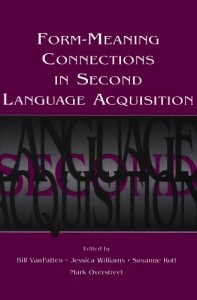 Edited By Bill VanPatten, Jessica Williams, Susanne Rott, Mark Overstreet
Form-Meaning Connections in Second Language Acquisition is an interdisciplinary and timely edited book of essays and empirical studies, most of which are based on the papers presented at the Form and Meaning Conference held in Chicago in 2002. The goal of the conference and now of the book is to present linguistic and cognitive approaches to second language acquisition, attempting to integrate external and internal issues in interlanguage development, while outlining directions for future research. The editors address questions, such as: What is the nature and sequence of the form-meaning mapping process? How are these connections made? How are these connections used to construct grammars and lexicons? And, how can conditions and external factors be manipulated to improve the chances of making these form-meaning connections?
Contributors to this volume include such second language acquisition scholars as Susan Gass, Nick Ellis, Kathleen Bardovi-Harlig, Catherine Doughty, and Diane Larsen-Freeman. They address these form-meaning issues from a variety of settings and from multiple perspectives.
Researchers and graduate students in applied linguistics, cognitive psychology, linguistics, and language pedagogy will find this volume to be an important resource.
Download
http://usafiles.net/Bvb/Form_Meaning_Connections_in_Second_Language_Acquisition.pdf