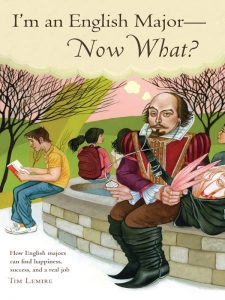 by Tim Lemire
I'm an English Major – Now What? helps English majors and graduates understand their skills and talents so they can find satisfying jobs across a diversity of fields and dispels common fears and misconceptions that English majors will never make good money.
In this book, you'll learn:
How an English major background can be very marketable
How an English major's skills can be applied to an array of jobs and careers (beyond teaching and writing)
How an English major can develop valuable skills and experience through school and extracurricular activities
You'll also find answers to common questions such as:
Should I go to graduate school? Should I wait?
How do I begin a freelancing career?
Would I do well in a corporate setting?
Authored by a former English major with professional experience across many areas, including corporate communications, journalism, publishing, teaching, and writing, this guide also features more than a dozen interviews with English majors who were able to translate their skills into satisfying careers.
Download
http://usafiles.net/11dw/I_m_an_English_Major—Now_What_-_How_English_majors_can_find_happiness,_success,_and_a_real_job.pdf