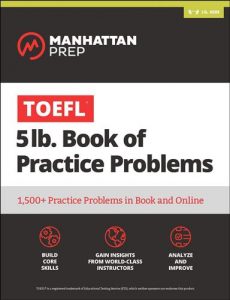 · 1,500+ questions across 36 chapters in-book and online
· Problems sensibly grouped into practice sets by section and academic prompt
· 10 bonus appendices on core skills, such as English vocabulary and grammar
· Test-taking strategies and advice based on learning science
· Online chapters, audio tracks, and question banks provide realistic, computer-based practice
· Innovative layout of annotated answers and explanations all in one place
· Instructions and explanations written in clear, transparent English for efficient learning
From the team behind the bestselling 5 lb. Book series comes a title designed for you, the TOEFL student. The 5 lb. Book of TOEFL Practice Problems has more practice questions (1,500+!) than all three Official Guides combined, and the questions are sensibly grouped into sets that allow you to learn by topic. All questions accurately mirror those found on the TOEFL in content, form, and style. This book also features an innovative new layout of answers and explanations (no more flipping back and forth!), and it's written in clear, transparent English.
Build fundamental skills in Reading, Listening, Speaking, and Writing through targeted practice,while easy-to-follow explanations and step-by-step processes cement your understanding of TOEFL concepts. Take your practice to the next level with online question banks featuring realistic, computer-based practice to better simulate the TOEFL test-taking experience.
Download
http://usafiles.net/Adp/TOEFL_lb_Book_of_TOEFL_Practice_Problems_Book_Online_FINAL-_facebook_com_LinguaLIB.pdf