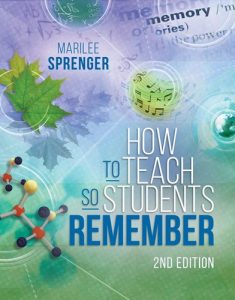 Memory is inextricable from learning; there's little sense in teaching students something new if they can't recall it later. Ensuring that the knowledge teachers impart is appropriately stored in the brain and easily retrieved when necessary is a vital component of instruction. In How to Teach So Students Remember, author Marilee Sprenger provides you with a proven, research-based, easy-to-follow framework for doing just that.
This second edition of Sprenger's celebrated book, updated to include recent research and developments in the fields of memory and teaching, offers seven concrete, actionable steps to help students use what they've learned when they need it. Step by step, you will discover how to
actively engage your students with new learning;
teach students to reflect on new knowledge in a meaningful way;
train students to recode new concepts in their own words to clarify understanding;
use feedback to ensure that relevant information is binding to necessary neural pathways;
incorporate multiple rehearsal strategies to secure new knowledge in both working and long-term memory;
design lesson reviews that help students retain information beyond the test; and
align instruction, review, and assessment to help students more easily retrieve information.
The practical strategies and suggestions in this book, carefully followed and appropriately differentiated, will revolutionize the way you teach and immeasurably improve student achievement. Remember: By consciously crafting lessons for maximum "stickiness," we can equip all students to remember what's important when it matters.
Deepen your understanding of adult development and its role in systemic and schoolwide change and educational improvement,
Connect theory to practice with developmentally oriented structures and strategies that enhance collaboration, communication, and feedback,
Support individual and organizational growth with a differentiated approach to leadership and capacity building, and
Build trust, capacity, collegiality, and sustainability with developmental practices that meet adult needs.
Whether you work in a school, district, university, educational institution, or other learning organization, you'll learn how to infuse leadership, collaboration, communication, and capacity building with a deep understanding of individuals' experiences and capacities—and how they influence our day-to-day work. Leading Change Together explains how you and other adult learners can effect tremendous change in schools and systems.
Download
http://usafiles.net/A1o/How_to_Teach_so_Students_Remember.pdf