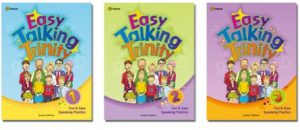 Easy Talking Trinity is a three-level speaking series for young learners of English. There are ten lessons for each book. Each lesson focuses on a conversational topic from the Trinity GESE (Graded Exam of Spoken English) syllabus. Easy Talking Trinity motivates students to improve their speaking skills through fun and interactive topic-based lessons.
Features
Clear and easy-to-follow lesson flow
Function and topic-based speaking Lessons
Cumulative dialogue expression practice
Fun and engaging illustrations
Collaborative and interactive learning through pair work
Personalization to consolidate and extend the target language
Practical Teacher's Manual providing:
– Clear and easy-to-follow instructions
– Extra speaking activities (Lead-in Activity & Wrap-up Activity)
– A practical guide to classroom management.
Download 
http://usafiles.net/2FUd/easy_talking_trinity_1_cd.7z
http://usafiles.net/2FUe/easy_talking_trinity_1_sb.pdf
http://usafiles.net/2FUf/easy_talking_trinity_1_worksheets.zip
http://usafiles.net/2FUg/easy_talking_trinity_2_cd.7z
http://usafiles.net/2FUh/easy_talking_trinity_2_sb.pdf
http://usafiles.net/2FUi/easy_talking_trinity_2_worksheets.7z
http://usafiles.net/2FUj/easy_talking_trinity_3_sb.pdf
http://usafiles.net/2FUk/easy_talking_trinity_3_sb_cd.7z
http://usafiles.net/2FUl/easy_talking_trinity_3_worksheets.7z