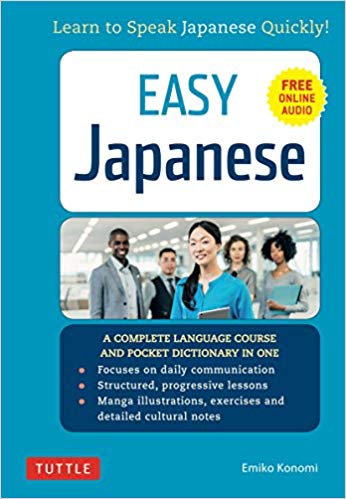 English | February 6, 2018 | ISBN: 4805314028 | 256 Pages | PDF | 8.40 MB
This user-friendly Japanese language book is a comprehensive language course, pocket dictionary, and Japanese phrasebook in one.
Easy Japanese is designed for Japanese language beginners who are planning a visit to Japan for business or travel, or are already living there and wish to learn spoken Japanese quickly and easily. This book introduces all the basics of the spoken language, with an emphasis on practical conversational Japanese and daily vocabulary. It enables you to begin efficiently communicating right away.
Key features of Easy Japanese include:Structured, progressive lessonsFocuses on daily communicationNative-speaker audio recordings
All dialogues are highly practical, authentic, and illustrated with manga illustrations for easy memorization. Useful notes and explanations about the Japanese writing system, pronunciations and accents, greetings and requests, sentence structure, vocabulary, verb conjugations, honorific forms, idiomatic expressions and Japanese etiquette dos and don'ts are provided throughout the book.
A useful Japanese dictionary of commonly-used words and phrases is included at the back. The hours of native-speaker dialogue audio recordings, vocabulary, and exercises enable the reader to learn to pronounce Japanese words and phrases correctly.
Download:
http://usafiles.net/1Nis/Easy_Japanese_Learn_to_Speak_Japanese_Quickly!.pdf