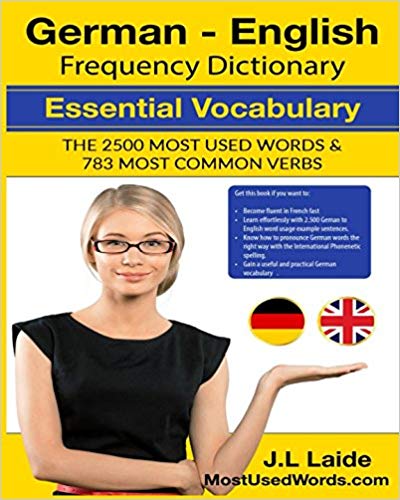 English | July 14, 2016 | ISBN: N/A | ASIN: B01IHRUC8M | 359 Pages | PDF | 10 MB
Essential Modern German Vocabulary for Students and Learners
The fastest way to acquire a base vocabulary for practical spoken and written German.
2nd Edition Updates
Added 2500 German to English word usage example sentences.
Added phonetically written translations to help you pronounce German words the right way.
Scientific research has shown that in day to day speech, you only use about 1.000 words a day.
The 1000 most common words in German account for 95% of all daily conversational German. The 2.500 most used words account for 85% of all daily written Deutsch.
The essential German – English Word Frequency Dictionary gives you a list of the most useful words to build your German vocabulary fast. These high frequency German words are a great tool for beginners and intermediate students.
This electronic mini dictionary is a invaluable tool if you want to teach yourself German.
It contains the 2500 most common words and the 783 most common verbs in German.
Discover only the most important words, the ones that make up 95% of all the German vocabulary you use on a day-to-day basis, to quickly gain a practical knowledge of spoken and written German.
This German frequency dictionary is perfect for beginners and intermediate students.
Learning from a German vocabulary list is a great way to learn German fast.
More fun facts on language learning and vocabulary:
The first 25 words are used in 33% of all everyday writing
The top 100 words make up 50% of all student and adult writing
Top 500 words make up around 70% of all everyday text.
2.500 words consist of 95% of conversational German
100.000 words make up 98% of all conversational German
To gain 95% fluency, more than enough for day-to-day situations, you just need to know about 2.500 words. To further increase your fluency to 98% (a mere 3% increase), you would need to learn another 97.500 words. Talk about diminishing returns!
It has been advised to first learn the first 1000 most common words before you start speaking a new language. The facts aforementioned seem to confirm this.
That is why we created a list of the most used 2500 German words, and 783 most common verbs. With these words, you are able to cover 85% of the German language in text (enough to discover the meaning of unknown words through context), and 95% of all of the in day-to-day spoken situations.
It is therefore a rational move to prioritize learning the words and verbs that you are likely to use and hear the most often.
Frequency dictionaries and word lists are a good starting point, and can produce the quickest results.
The most common German words & verbs list will give you a good grasp on the German language in a short amount of time.
The word frequency is based on analysis of German subtitles. Scientific research has shown that subtitles are the best source of a practical, spoken frequency dictionary in any language.
Subtitles are the best way of measuring word frequency. because they correlate to both spoken and written German. *
The product is unique and the best way to understand and speak German quick, because other frequency dictionaries base themselves on written text.
The dictionary has been arranged by:
2500 most common words in frequency order,
type of word (most used nouns,verbs, etc.) ,
alphabetical order.
Download:
http://usafiles.net/Wf0/07German_English_Frequency_Dictionary_-Essential_Vocabulary_2500_Most_Used_Words&_783_Most_Common_Verbs.pdf